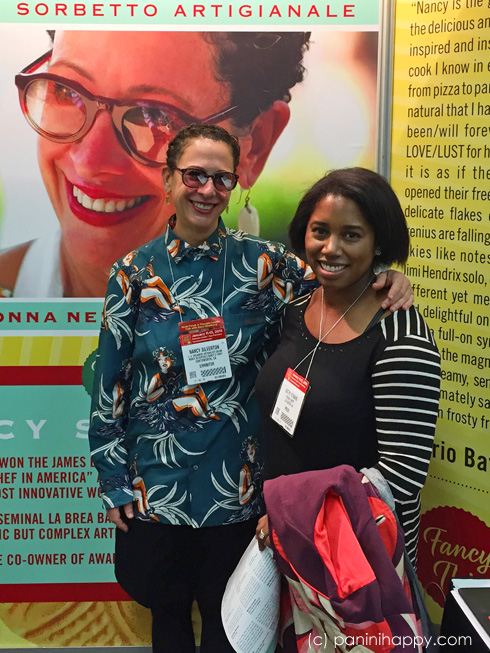 So many booths, so many dreams! Imagine the world's largest Whole Foods on a Friday evening…plus sales reps…and speed dating. At the Winter Fancy Food Show in San Francisco on Monday, I was overwhelmed — dizzied, even — by the sheer volume of specialty food products and people looking to buy, sell, package and promote them.
Meeting Nancy Silverton (see above) was definitely a highlight of the show for me. I've long admired her success as a chef and businesswoman and was extra proud to let her know that I used La Brea Bakery bread throughout much of The Ultimate Panini Press Cookbook. She actually was at the show to debut a new venture: gelato! I had the chance to try out four flavors of Nancy's Fancy — my favorite was the Coconut Stracciatella with Bittersweet Chocolate Strands, which is actually a dairy-free sorbetto. The coconut flavor, from coconut milk, was so pronounced and refreshing!
Nancy's Fancy shared a booth with L.A. Creamery, which had one of the most decadent treats I have dared to taste in recent memory: salted caramel cheesecake sandwiched between two cinnamon-sugar dusted sugar cookies, aka Cheesecake Sammies. Ohhhh my goodness. I took three bites (ok, big bites) of this insanely delightful sandwich before I had to move it away from my own reach. I still had a lot of tasting to do!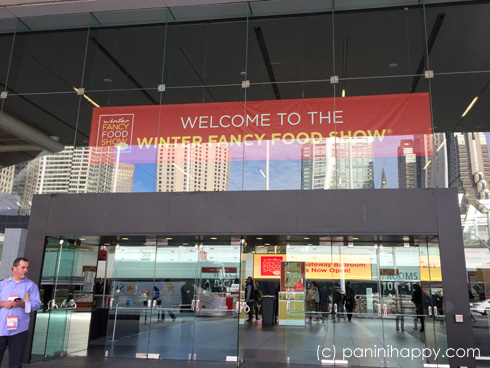 It might have been easier if I'd had a specific objective or agenda for navigating the 1,400+ exhibitors, but I didn't. Lugging my trench coat and two bags up and down the halls (my arms were searing the next day!), I mostly was just looking for products that interested me — something I hadn't seen before. A few things that caught my eye: birch syrup (along the lines of maple syrup, but from birch trees), edible play doh (when you're done playing you can bake the dough into "cookies"),  extra-dark Vosges chocolate with mushrooms in it (couldn't taste them…thankfully) and authentic Black Forest ham from Germany (not at all like the deli stuff — drier, more like speck or prosciutto). The woman offering the ham samples had big red pompoms covering her hat. Gotta get noticed at this show!
Another proud moment at the show — and I wish we'd taken a photo! — was getting to stop by the booth of my friend, Heather Scholten, whose spice products are really taking off. Heather and her business partner Pete started Spiceologist in 2013. I use their Pink Peppercorn Lemon Thyme rub (which I bought at Sur La Table) pretty much every time I roast chicken — my family loves it!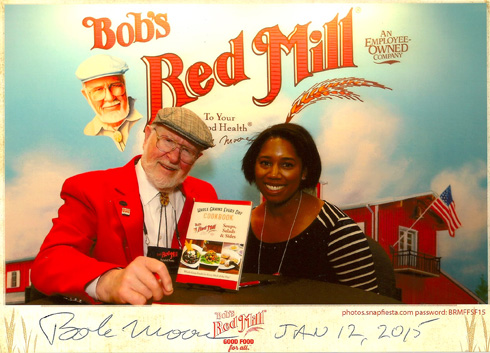 Last, but not least, I had the chance to meet Bob Moore from Bob's Red Mill — I recognized him immediately, his face is all over my pantry! He's a friendly fellow, and I like his company. I told him I'd become interested in beans lately. One of the company reps showed me their new orca beans which I thought were so pretty — they're black and white, like the whale. Pretty beans? This is who I have become.
In terms of trends — it'll probably be a little easier for me to discern them next year, now that I'll have a show to compare with. But in general, I couldn't help notice I didn't see a huge push for bacon-related products, which I imagine were all over the halls in previous years. Maybe we've seen a peak on that? Who knows. What I did see come up often was peanut butter, in a variety of forms: powdered (to add into smoothies, or to make a lower-fat peanut butter "paste" with water), and drinkable peanut butter (think hot chocolate) stood out to me, in particular. All fascinating stuff!